July 21 - Letter from the Superintendent
A. Larson
Wednesday, July 21, 2021
https://drive.google.com/file/...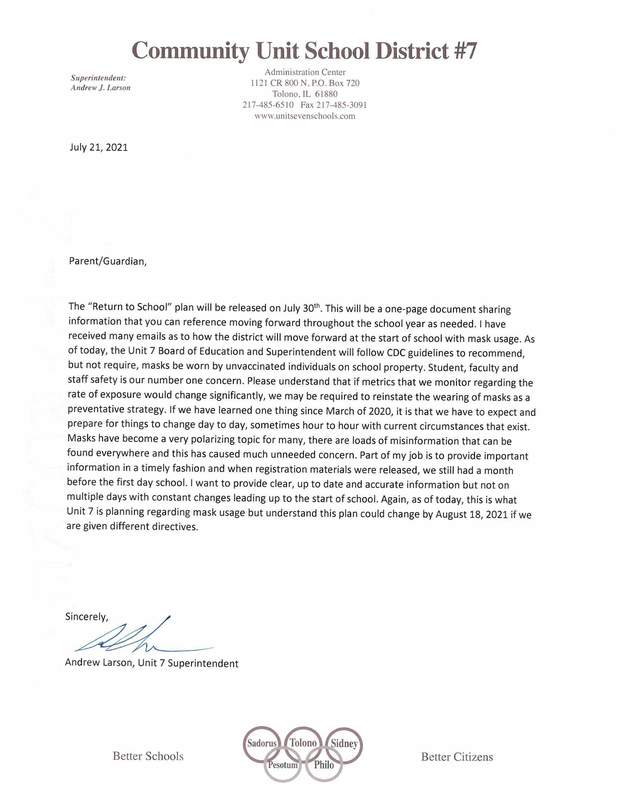 July 21, 2021
Parent/Guardian,
The "Return to School" plan will be released on July 30th. This will be a one-page document sharing information that you can reference moving forward throughout the school year as needed.
I have received many emails as to how the district will move forward at the start of school with mask usage. As of today, the Unit 7 Board of Education and Superintendent will follow CDC guidelines to recommend, but not require, masks be worn by unvaccinated individuals on school property. Student, faculty and staff safety is our number one concern. Please understand that if metrics that we monitor regarding the rate of exposure would change significantly, we may be required to reinstate the wearing of masks as a preventative strategy.
If we have learned one thing since March of 2020, it is that we have to expect and prepare for things to change day to day, sometimes hour to hour with current circumstances that exist. Masks have become a very polarizing topic for many, there are loads of misinformation that can be found everywhere and this has caused much unneeded concern.
Part of my job is to provide important information in a timely fashion and when registration materials were released, we still had a month before the first day school. I want to provide clear, up to date and accurate information but not on multiple days with constant changes leading up to the start of school. Again, as of today, this is what Unit 7 is planning regarding mask usage but understand this plan could change by August 18, 2021 if we are given different directives.
Sincerely,
Andrew Larson, Unit 7 Superintendent