NEWS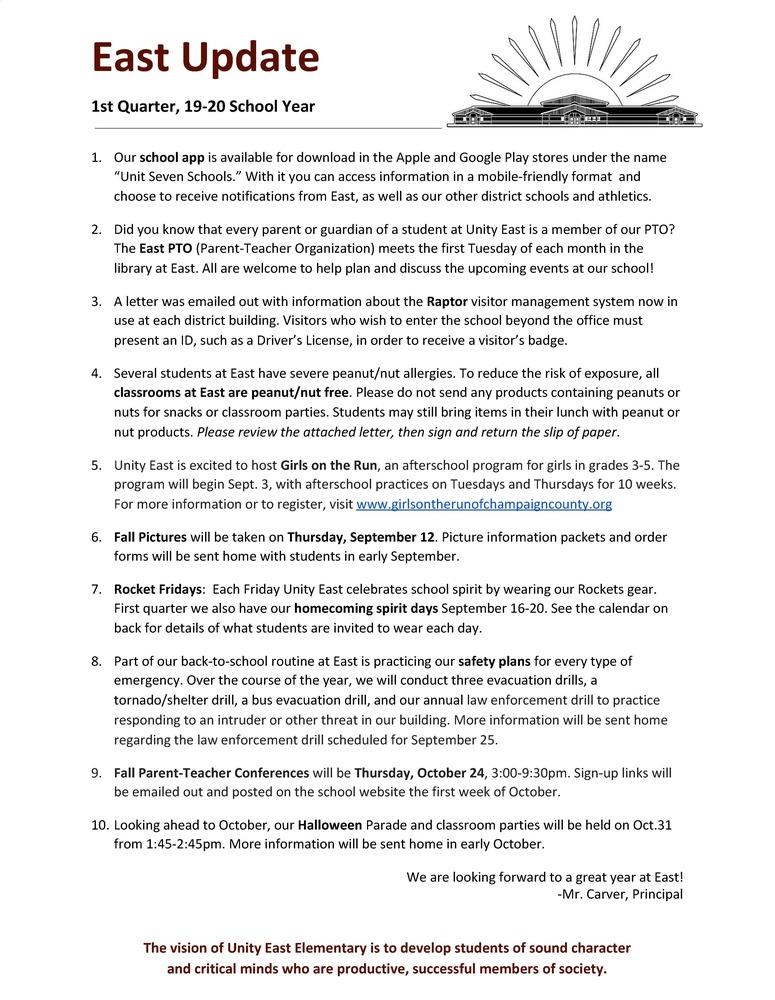 Our school app is available for download in the Apple and Google Play stores under the name "Unit Seven Schools." With it you can access information in a mobile-friendly format and choose to...
Unity East Elementary Drop-off and Pick-up GuidelinesIf you drop off your child before school... At 7:30, a teacher will unlock the front doors and stand outside to supervise. When a teacher is...
For a .pdf copy of the school calendar, click here.
SEE ALL NEWS
LIVE FEED

East Families: This morning students & staff took shelter in response to the storm that passed through the area. Students did a great job following directions and waiting patiently for the storm to pass. This message is simply to make you aware in case your child has a concern.

Today every class was busy learning about their new room, meeting new classmates, practicing routines, and getting started with the next chapter in their education. Great first day at East! view image

Unit 7 Schools is hiring a special education aide at Unity West Elementary School for the 2019-20 school year. Qualifications: Associates degree or 60 hours college credit Contact Janah Sudduth-Mottola, Special Education Coordinator, at 217-485-6510 / sudduthj@unity.k12.il.us if interested

Unity East's Back-to-School Open House this Thursday evening, 5:30-7:15pm. Meet the teacher, attend class meetings, drop off school supplies, & enjoy the evening at the school. Hot dogs, chips, & drinks at no cost; Kona Ice for sale. We are looking forward to seeing everyone!
SEE ALL POSTS
Events